Like caller ID for your front porch
The first of its kind, this two-in-one cordless answering system and video doorbell combines a versatile phone system with a digital camera, for convenience and security at home.
Video Gallery
VTech IS7121-2 2 Handset Answering System with Audio/Video Doorbell
VTech® IS7121-2 Video Doorbell Installation Video
Benefits
CONTROL
You choose who to hear and see. The doorbell instantly sends a photo to each handset, but you decide when to enable the microphone. Want to stream video? You decide that, too.
Product Review
"As a phone, the IS7121-2 includes Voice Announce caller ID, HD audio, speakerphone, last 10 number redial, caller ID for both the current call and call waiting, and many other features..."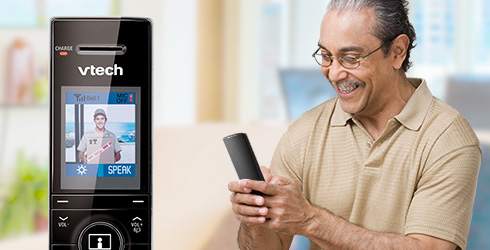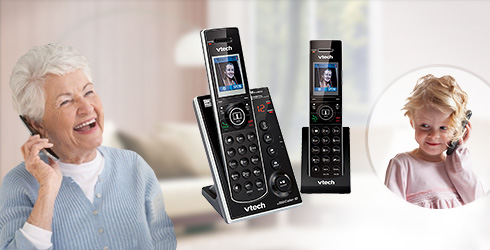 COMMUNICATION
Ideal for everyday conversations, the system comes with all the comfort, convenience and features you need to stay connected to family and friends.
Product Review
"If you don't have a landline, don't despair: the video and intercom modes work independently of phone mode..."
SAFETY
Find out who's knocking without being seen. The video doorbell is a great way to discretely protect your privacy, and your home.
Product Review
"For any homeowner, the VTech 2 Handset Answering System with Audio/Video Doorbell is the ultimate tool in home security... this one combines a cordless telephone with a digital camera..."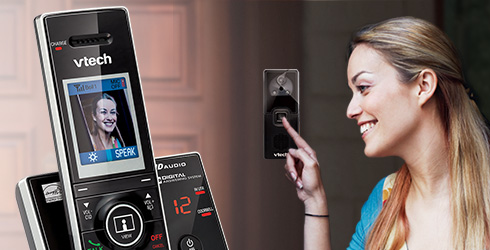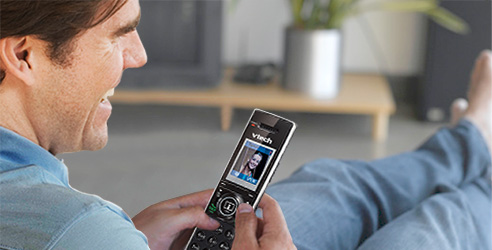 CONVENIENCE
Color LCDs on each handset mean you can take your extra set of eyes wherever your calls take you at home.
Product Review
"...The cordless phone features a color display that can stream vdeo from the doorbell or show stills. You can even get missed calls from your front coor... so if you're not, you can check to see if anyone came by when you get back..."
features
Audio/video camera doorbell
Video Doorbell Intercom
The digital camera allows you to screen visitors before answering the door, without the worry of being seen. View and talk to visitors from any room—even in your backyard.
Take a Snapshot or Stream Video
The camera automatically snaps a photo and sends it to the handsets when visitors ring the doorbell. You can then stream video, audio, or both with just two buttons.
Night Vision
View clear images of visitors even after dark with automatic night vision.
Cordless handset
Color LCD Screen
Each handset features a 1.8-inch, full-color LCD screen so you can stream video or view photos from anywhere in your home.
Visitor Photo Log
Know who stopped by when you weren't home by reviewing and storing up to 100 photos.
Pan and Zoom
Want to see more? Zoom in for a closer look, or use the pan feature to see who else is there.
Voice Announce® Caller ID
Always know who's calling, even when your're in the other room. All devices announce the names of your callers through the speakerphones.
More features
Adjustable Contrast
Get clear video in any light by adjusting the contrast setting up or down.
Message Recording
Missed a call? With up to 14 minutes of recording time, the digital answering system answers calls when you can't.
Push-to-talk
No more shouting through the house. This system doubles as a multiple-handset walkie-talkie to instantly communicate with any or all of the handsets in your home.
HD Audio
Communicate with callers, and visitors, while enjoying high-quality sound. A built-in equalizer allows you to select the profile best suited for your needs.
Featured products